Project planning and control with Microsoft Project®
This course is aimed at teaching how to plan and control projects by using Microsoft® Project 2016 and earlier versions, in the Traditional Project Management (TPM) practices defined and matured in the world of the engineer and construction professionals. 
The terminology and principles used throughout this course are designed to reflect the current syllabus for the Traditional Project Management (TPM) practices defined and matured in the world of the engineer and construction professionals. 
At the end of the training, the participants will be able to:
Understand the steps required to create a project plan by using  Traditional Project Management (TPM) practices

Set up the Microsoft® Project software

Define calendars

Add tasks

Organize tasks according to project's scope and format the display

Add logic and task relationships according to technical and legal constraints

Use Tables, Views and Filters which create the printouts and reports

Updating progress/Critical Path Analysis

Controlling project progress reports -S Curve Analysis (Time, Cost, Scope)
INTRODUCTION TO PROJECT MANAGEMENT
What is a project

The project triple constraint

Project lifecycle according to PMI

Microsoft Project role in Project Management
INITIATION TO MICROSOFT PROJECT
What is Microsoft Project

Starting the application   

General presentation of application menu

Managing files and setting options

Microsoft Project duration and work calculation setings
CREATING A NEW PROJECT
Creating a new plan and setting start date

Setting the project calendar        

Defining the Work Breakdown Structure- Summary tasks- Project Scope

Defining the list of activities(tasks)

Estimating tasks duration

Creating task dependencies with links

Critical Path Method Analysis- Project Time

Activity codes- defining an alternative WBS Structure

Customizing a Gantt Chart View
DEFINING RESOURCES
Entering Work resources names

Entering resources maximum capacity(allocation)

Entering resources pay rates

Adjusting working time in a resource calendar

Setting up cost resources
ASSIGNING RESOURCES TO TASKS
Assigning work resources

Settings when addding/removing resources

Assigning project cost resources
SAVING THE PROJECT BASELINE (S-Curve Time, Cost, Scope)
Saving a project baseline

Customizing the Timeline view

Customizing the Report view

Printing views and reports
UPDATING PROGRESS
Identify the updating interval

Entering a task completion percentage

Entering actual values for tasks dates

Entering actual values for work and cost
REPORTING PROJECT PERFORMANCE
Identifying tasks that have slipped

Filters

Analysing task costs

Analysing resources costs

Reporting project cost variance

S Curve Analysis (Time-Scope-Cost) Actual vs planned
IMPORTING/EXPORTING DATA
Importing projects

Exporting projects

Course format:
       – Clasroom live
       – Presentation
       – Real Case study selected with attendees
       – Exercices

 Lenght: 3 days

Schedule: 8:00-16:00

 Where: Client/ Other 

Language: EN/FR/RO

Certificate: Certificate of Completion


Trainer: Senior Project Planning & Risk Management Consultant, MSc Engineering & Business Management  PMP® Certified, experienced in Nuclear, Rail, Oil and Gas…

Course Materials:
– Course manual
– Planning, reporting templates
– Project Planning guideline
– Ecostar Plan notebook and pen


Who should attend:
– Project Managers
– Engineers and Planners
– Chief Executive Officers
– Finance Managers
– Contracts and Claims Manager
– Project Risk Managers
– Document Controller
– PMO Support Engineer
– Cost Engineers


 In what industries:
– Infrastructure
– Engineering and Construction
– Oil, Gas and Petrochemical
– Nuclear
– Power and Water Utility Plants
– Manufacturing and Industrial
– Government
– Aerospace
– Defense
– Financial Services
– Telecommunication
– Pharmaceuticals
– Environmental
– Shipbuilding
Registration Form

What you will get after the training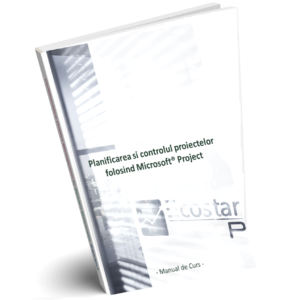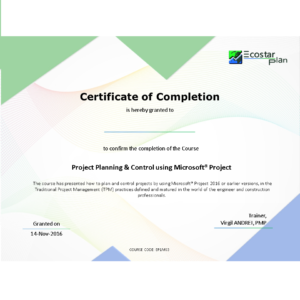 Certificate of completion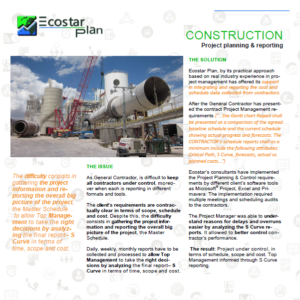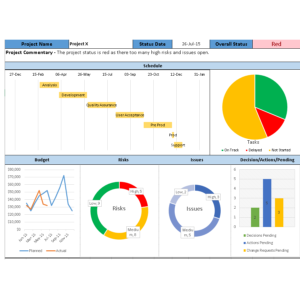 Access to a local network for participants – continued development of PM skills, providing useful tools & information
Access to our monthly meeting – giving students the possibility to stay in touch with the other students trained by Ecostar Plan 
Further courses recommendations
Proven templates, guidelines

 relevant industry experience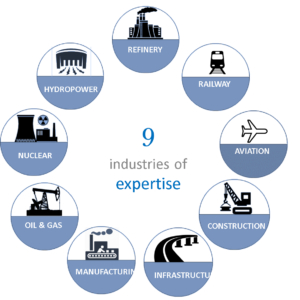 guaranteed quality

 proven results

PM Consultants certified by
 the Project Management Institute

 understand real project needs

 post course support


According to international studies regarding PM Training results, companies had a 26% overall performance 
improvement in 8 areas of project management due to their project management training programmes.
Improved stakeholder satisfaction

Improved schedule performance

Decrease in project failures

Increase is risk awareness
Improved budget performance

Improved productivity

Better scope control

Human Resources development
Evaluating training and results (ROI of Training)

Ecostar Plan by its experienced trainers is continuously evaluating training performance to show the value that programs have on the company through the following: 
Reaction and value of the program
Learning and confidence
Application and implementation