Managing Scope, Schedule and Cost
Delivering a project within the given constraints as scope, time and cost are fundamental issues for ensuring success. Whether delivering a new gas pipeline, a building or a nuclear plant, all projects require constant monitoring and controlling to meet their objectives. By identifying early warning indicators, you will gain greater insight into potential risk areas and take the necessary corrective actions to keep the project under control.
This course provides a structured approach for project planning and control, by going beyond project management fundamentals and applies a variety of techniques to balance the competing demands of monitoring scope, schedule, and cost. It uses industry best practices to teach the latest tools and techniques.
Learn how to establish the performance measurement baseline and gain proficiency in the tools and techniques used to compare actual work accomplished against established plans. Determine how best to plan project scope based on stakeholder budget and schedule constraints. Be proactive and in control of your project by implementing cost and schedule management.
At the end of the training, the participants will be able to:
Understand industry's best practices in planning and controlling a project

Discuss key project scope, schedule, and cost concepts

Evaluate a deliverable-based Work Breakdown Structure (WBS) according to the project Scope of Work

Validate a project schedule after verifying the Critical Path

Evaluate and validate cost estimates

Analyze project performance and recommend corrective action
SCOPE, SCHEDULE AND COST OVERVIEW
Project Management Process Groups

Scope

Schedule

Cost

Performance Measurement Baseline (PMB)

Managing Project Performance

S Curve Analysis

Lesson Summary
SCOPE
Project Scope Management

Product-oriented WBS

WBS Dictionary

Selecting a project

Define project's WBS

Lesson Summary
SCHEDULE
Common Scheduling Terms

Scheduling Process

Critical Path

Schedule Assessment Checklist

Schedule Compression

Define project's list of activities
SCHEDULE
Define project's Critical Path

Lesson Summary
COST
Overview

Cost Estimating Process

Defining project's budget

Top Down Estimation

Bottom Up Estimation

Lesson Summary
MANAGING SCOPE, SCHEDULE AND COST
Overview

Management Reserve

Performance Measurement Baseline (PMB)

Updating project data

Performance Measurement

Corrective Actions

Change Control

Lesson Summary

Course format:
       – Clasroom live
       – Presentation
       – Real Case study selected with atendees
       – Exercices

 Lenght: 2 days

Schedule: 8:00-16:00

 Where: Client/ Other 

Language: english/french

Certificate: Certificate of Completion


Trainer: Senior Project Planning & Risk Management Consultant, MSc Engineering & Business Management  PMP® Certified, experienced in Nuclear, Rail, Oil and Gas…

Course Materials:
– Course manual
– Planning, controlling templates
– Project planning guideline
– Ecostar Plan notebook and pen


Who should attend:
– Project Managers
– Engineers and Planners
– Chief Executive Officers
– Finance Managers
– Contracts and Claims Manager
– Project Risk Managers
– Document Controller
– PMO Support Engineer
– Cost Engineers


 In what industries:
– Infrastructure
– Engineering and Construction
– Oil, Gas and Petrochemical
– Nuclear
– Power and Water Utility Plants
– Manufacturing and Industrial
– Government
– Aerospace
– Defense
– Financial Services
– Telecommunication
– Pharmaceuticals
– Environmental
– Shipbuilding
Registration Form

What you will get after the training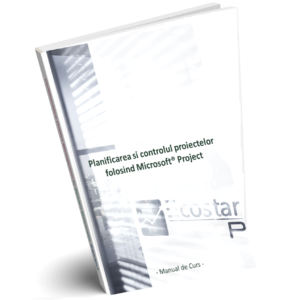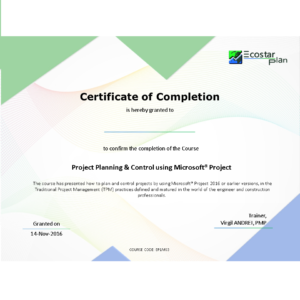 Certificate of completion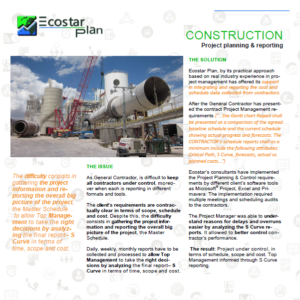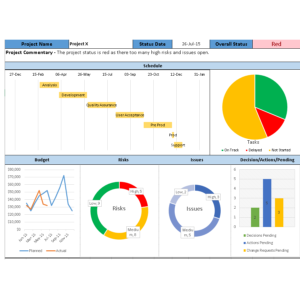 Access to a local network for participants – continued development of PM skills, providing useful tools & information
Access to our monthly meeting – giving students the possibility to stay in touch with the other students trained by Ecostar Plan 
Further courses recommendations
Proven templates, guidelines

 relevant industry experience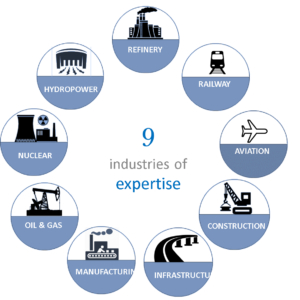 guaranteed quality

 proven results

PM Consultants certified by
 the Project Management Institute

 understand real project needs

 post course support


According to international studies regarding PM Training results, companies had a 26% overall performance 
improvement in 8 areas of project management due to their project management training programmes.
Improved stakeholder satisfaction

Improved schedule performance

Decrease in project failures

Increase is risk awareness
Improved budget performance

Improved productivity

Better scope control

Human Resources development
Evaluating training and results (ROI of Training)

Ecostar Plan by its experienced trainers is continuously evaluating training performance to show the value that programs have on the company through the following: 
Reaction and value of the program
Learning and confidence
Application and implementation