This highly practical course provides you with the essential skills, tools and techniques that you'll need to take your PMP exam. The course is focused on exploring the PMBoK Guide 6thEdition, explaining the fundamental principles of successful project management and incorporates a number of easy to apply effective tools and techniques that will allow you to become more confident and prepared to take your PMP accreditation by PMI.  
The terminology and principles used throughout this course are designed to reflect the current syllabus for the PMP Certification offered by Project Management Institute, describing the practices defined and matured in the PMBoK Guide 6th Edition.  
At the end of the training, the participants will be able to:
Earn 35 PM Training contact hours required to register for the PMP exam

Understand the Project Management Processes as defined by the PMBoK 6th Edition developed by PMI

Understand the Project Management Knowledge Areas

Get all the resources you need to pass the PMI PMP certification exam

learn from real projects examples how the PMBoK Guide is being applied- best practices
Apply a simple lifecycle to a project to break it into easy to manage stages.

Clearly define your projects to provide real clarity in terms of project scope, time, cost, roles and responsibilities, and other key factors.

Confidently plan, organize and document a project by using a wide variety of tools that add value to the project management process.

Become more effective in monitoring and controlling the project work, change requests and resourcing pressures by using best practice processes and techniques.
INTRODUCTORY PROJECT MANAGEMENT NOTIONS
International PM Standards

Project – Portfolio –Program Management

Project Life cycle (PMI Vision)
INITIATION
Project Charter- Project Initiation Note

Analyzing Stakeholders
PLANNING
Project Management Plan


Contract types


Purchasing Plan   


Detailing the Project Scope – Work Breakdown Structure (WBS)


Detailing the work packages-activities list


Estimation techniques


Estimating duration and costs
PLANNING
Allocating resources

Creating the project Schedule-Gantt Chart

Analyzing the Critical Path

Project Risk Analysis

Project Optimization Techniques

Saving the project baseline (Time-Cost-Scope)
EXECUTION
Managing Project Execution

Managing Quality

Managing the project team

Distributing information -reporting communication
MONITORING & CONTROL
Collecting progress data

Updating project progress

Analyzing project progress (time, cost, scope)

Quality Control

Analyzing resource progress

Reporting models

Project re-planning techniques – recovering delays and putting the project back on track
CLOSING
Formalizing the project closure process

Lessons Learned and distributing information

PROJECT MANAGEMENT PROCESSES OVERVIEW
COURSE EXAM
Final examination-based on PMI Exam questions

Course format:
       – Clasroom live
       – Presentation
       – Case studies
       – Exercices

 Lenght: 5 days

Schedule: 8:00-16:00

 Where: Client/ Other 

Language: english/french

Certificate: Certificate of Completion


Trainer: Senior Project Planning & Risk Management Consultant, MSc Engineering & Business Management  PMP® Certified, experienced in Nuclear, Rail, Oil and Gas…

Course Materials:
– Course manual
– PM templates
– Project Lifecycle guideline
– Ecostar Plan notebook and pen


Who should attend:
– Atendees having minimum 2 years experience in PM desiring to take the PMP Certification


 In what industries:
– Infrastructure
– Engineering and Construction
– Oil, Gas and Petrochemical
– Nuclear
– Power and Water Utility Plants
– Manufacturing and Industrial
– Government
– Aerospace
– Defense
– Financial Services
– Telecommunication
– Pharmaceuticals
– Environmental
– Shipbuilding
What you will get after the training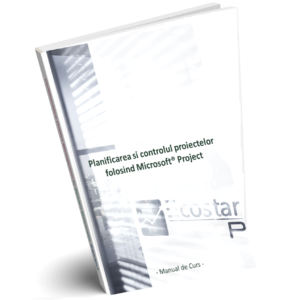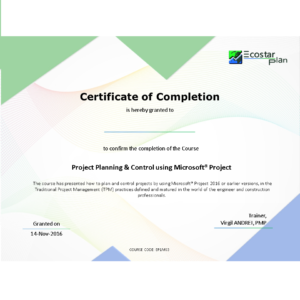 Certificate of completion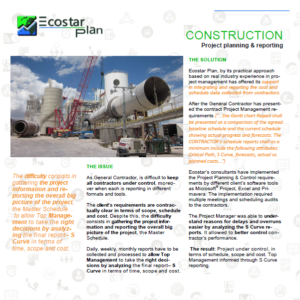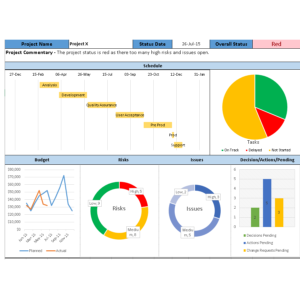 Access to a local network for participants – continued development of PM skills, providing useful tools & information
Access to our monthly meeting – giving students the possibility to stay in touch with the other students trained by Ecostar Plan 
Further courses recommendations
Proven templates, guidelines

 relevant industry experience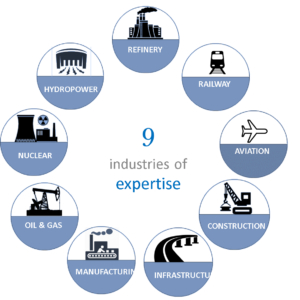 guaranteed quality

 proven results

PM Consultants certified by
 the Project Management Institute

 understand real project needs

 post course support


According to international studies regarding PM Training results, companies had a 26% overall performance 
improvement in 8 areas of project management due to their project management training programmes.
Improved stakeholder satisfaction

Improved schedule performance

Decrease in project failures

Increase is risk awareness
Improved budget performance

Improved productivity

Better scope control

Human Resources development
Evaluating training and results (ROI of Training)

Ecostar Plan by its experienced trainers is continuously evaluating training performance to show the value that programs have on the company through the following: 
Reaction and value of the program
Learning and confidence
Application and implementation