In project management is inevitable that something can go wrong. The difference in successful project management is adequately assessing the risks and then executing a successful risk response. 

Organizations must have solid project risk management best practices in place in order to deliver projects within specified time frames, budgets, and quality requirements. Proactive risk management allows a project manager to optimize project results by implementing proven tools to plan for both threats and opportunities.
The course will present different approaches to identify risks, qualitative and quantitative methods to analyze risks and determine their impacts, risk ranking and response techniques, approaches to monitor & control and communicate risks throughout the project life cycle. 

Increase the probability of project success by applying techniques to reduce threats and enhance unexpected opportunities. Learn how to prepare a comprehensive risk management plan.
At the end of the training, the participants will be able to:
Understand the steps required to create a Risk Management Plan according to ISO 31000 and best industry's practices (PMBoK)

Apply scalable templates for Risk Management Plans, Risk Registers and Risk Assessment Matrixes for managing project risks

Perform a proven Qualitative Risk-Analysis process to guide your risk management decisions

Perform the Quantitative Risk Analysis for calculating the possible impacts

Determine risk mitigation measures, time and cost level of confidence and reserves
INTRODUCTION TO PROJECT RISK MANAGEMENT
Worldwide project failure statistics

Project Risk Management benefits

International Risk Management Standards

Project Life cycle

Project Risk Management Processes overview
WHAT IS A RISK MANAGEMENT PLAN (RMP)?
Analyzing contents of a RMP model

Applying a standard template to create your RMP
SELECTING THE PROJECT
Project brief overview

Work Breakdown Structure

Activity Network

Critical Path Analysis
IDENTIFYING RISKS
TECOP (Technical, Economical, Commercial, Operational and Political) Identification

Brain Storming

Assessing high-level risks to the project
DEVELOPING THE RISK REGISTER
Analyzing contents of a Risk Register Model

Applying a proven template to create the Risk Register

Detail description of the project risks
ANALYZING RISKS THROUGH QUALITATIVE MEASURES
Defining the probability and impact scale

Performing probability and impact analyses

Applying the probability and impact matrix
IMPLEMENTING RISK RESPONSE STRATEGIES
Accept

Avoid

Transfer

Mitigate

Exploit

Share

Enhance
PRIORITIZING ANALYSIS RESULTS
Ranking project risks

Differentiating between acceptable and unacceptable risks
QUANTIFYING EFFECTS OF RISK EVENTS ON PROJECTS
Impacted schedule activities

Duration uncertainties
TOOLS FOR PROJECT RISK ANALYSIS
Software used for Risk Analysis

Three-point estimation

Probability distributions

Simulation-Multiple iterations

Determining project's cost and schedule level of confidence

Calculating contingency reserves
COURSE EXAM
Formalizing the project closure process

Lessons Learned and distributing information

PROJECT MANAGEMENT PROCESSES OVERVIEW

Course format:
       – Clasroom live
       – Presentation
       – Real Case study selected with attendees
       – Exercices

 Lenght: 3 days

Schedule: 8:00-16:00

 Where: Client/ Other 

Language: EN/FR/RO

Certificate: Certificate of Completion


Trainer: Senior Project Planning & Risk Management Consultant, MSc Engineering & Business Management  PMP® Certified, experienced in Nuclear, Rail, Oil and Gas…

Course Materials:
– Course manual
– Risk Management templates
– Project Risk Management  guideline
– Ecostar Plan notebook and pen


Who should attend:
– Project Managers
– Engineers and Planners
– Chief Executive Officers
– Finance Managers
– Contracts and Claims Manager
– Project Risk Managers
– Document Controller
– PMO Support Engineer
– Cost Engineers


 In what industries:
– Infrastructure
– Engineering and Construction
– Oil, Gas and Petrochemical
– Nuclear
– Power and Water Utility Plants
– Manufacturing and Industrial
– Government
– Aerospace
– Defense
– Financial Services
– Telecommunication
– Pharmaceuticals
– Environmental
– Shipbuilding
Registration Form

What you will get after the training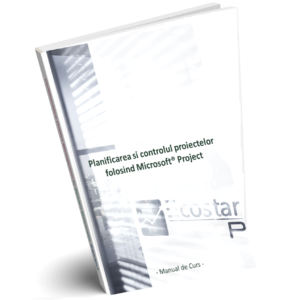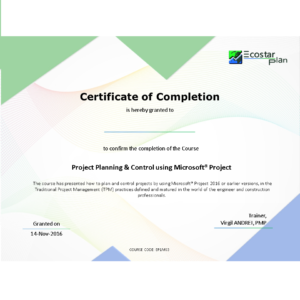 Certificate of completion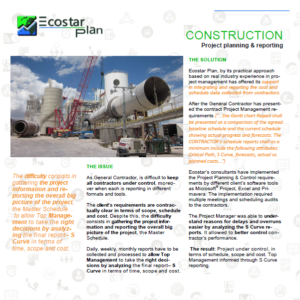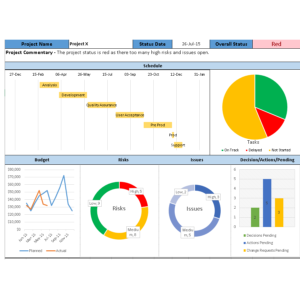 Access to a local network for participants – continued development of PM skills, providing useful tools & information
Access to our monthly meeting – giving students the possibility to stay in touch with the other students trained by Ecostar Plan 
Further courses recommendations
Proven templates, guidelines

 relevant industry experience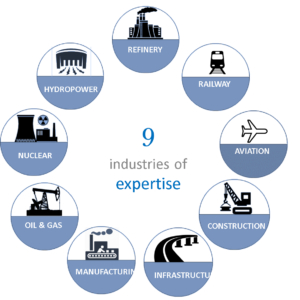 guaranteed quality

 proven results

PM Consultants certified by
 the Project Management Institute

 understand real project needs

 post course support


According to international studies regarding PM Training results, companies had a 26% overall performance 
improvement in 8 areas of project management due to their project management training programmes.
Improved stakeholder satisfaction

Improved schedule performance

Decrease in project failures

Increase is risk awareness
Improved budget performance

Improved productivity

Better scope control

Human Resources development
Evaluating training and results (ROI of Training)

Ecostar Plan by its experienced trainers is continuously evaluating training performance to show the value that programs have on the company through the following: 
Reaction and value of the program
Learning and confidence
Application and implementation